Formaldehyde Monitor "if/b", Transducer, 0-10ppm
Description
Formaldehyde Monitor "if/B", Transducer, 0-10ppm
The PPM Technology interface board (if/B) has been designed to connect the Formaldemeter to third party systems. It contains a Formaldemeter htv as well as the interface PCB and is supplied with a plug-in power supply and a wall mount bracket. The interface board can be configured by the manufacturer to give different voltage outputs; a 4?20mA current output and also give a relay alarm output. Various modes of operation are available to suit a whole array of uses, applications and situations.

There is a configuration menu available to allow the user to choose output type, operation mode, select output tests, sampling range and also calibrate the Formaldemeter. The menu also allows for the incorporated voltage-less relay to be triggered at various concentrations so that external equipment can be controlled.


Typical Uses:


Simple integration into existing sensor networks
PLC control systems
Stand-alone area monitoring
Cleanrooms; Packing rooms & Workshops
Single-point remote monitoring

Modes of Operation:
The if/B can be used in one of three sampling modes, depending on what best suits your needs. These are:

Polled mode
In this mode samples are only taken when a valid pulse is detected on the sample input line. If the instrument has not cleared sufficiently to sample at this point then the sample will be delayed - as soon as the instrument is ready then a sample will be taken. This is ideal for use with PLC or other controller based systems as the sampling rate is controlled by the input lines and the current status is available as logic levels on the output lines.

Continuous mode
This mode does not require any external trigger for sampling. Samples are taken as often as possible by the Formaldemeter. The sampling duration would be dependent on sample concentration (higher concentration samples will take longer to clear and will delay the next sample). This mode is easy to setup and is ideal for applications where no controller based systems are available and the sampling frequency can vary.

Timed mode
This mode does not require an external trigger but unlike the previous continuous mode it uses an internal timer to trigger samples at a set frequency. This can be adjusted by the user between 1 and 60 minutes in increments of a single minute. However, the sampling frequency is not guaranteed as samples may be delayed if the Formaldmeter is not ready to sample at the designated time.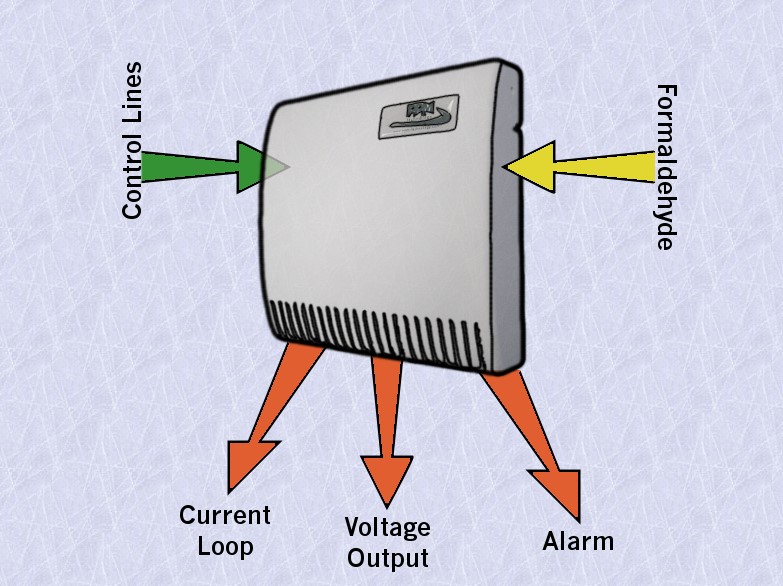 Technical data:
Mains Powered: 
15V-32V DC (15V Mains adaptor supplied)
Input Concentration:   
0-10ppm (1ppb resolution); 10-30°C; 15-90% RH
For higher operational temperatures, ask for technical advice!
Selectable Input FSD:
2.5ppm; 5ppm, 10ppm or 100ppm Formaldehyde concentration

Analogue Outputs:
0-2.5V; 0-5V; 0-10V; or 4-20V
Analogue Resolution:
16 bits (65536 steps from zero to FSD)
Digital I/O:

Sample, Data & Error

Alarm Relay:
Contacts rated at 0.5A@125VAC/2A@30VDC
Advanced Features:

Simple administration menu to change settings; Analogue test patterns & calibration output cycle; Formaldmeter calibration routine; Backup of samples stored in non-volatile memory
Supplied accessories:
The device is supplied in a rugged carry case, freshly calibrated with a calibration certificate. The case also contains:
1 universal power supply

1 wall mount bracket

1 table top stand

1 bag with pieces of polyethylene tube for the intake socket of the instrument

user manual

Please note: When ordering please specify which input FSD and which type of analogue output is needed by the user.