Gemini Tinytag Radio Loggers
Infinitely extendable wireless data logger system
Wireless connectivity
Collecting and connecting the loggers is no more necessary!
Loggers available for indoor or outdoor use
Loggers available for temperature, humidity, count pulses, voltages and currents (standard signals)
Temperature loggers available with internal sensors or for external PT100 or PT1000 probes.
Easy installation and software setup
The wireless mesh system can be extended to an infinite number of data loggers
Data re-routing with temporary disconnection to the receiver

If you are using more than 20 conventional stand-alone data loggers in an environment, the collection of the data loggers,  their connection to a PC, reading out the data and returning them to the right location will be very time consuming and labor intensive.
The Tinytag Radio Datalogger System uses wireless communications to automatically gather data from multiple loggers: there is no need for manual downloading. The system is ideal for applications with a large number of logging points. Data is sent to a PC running a Windows Gateway service to manage the data, which is viewed with Tinytag Explorer software. Data can be viewed directly, across a Local Area Network, or remotely across the internet.

Look at the video presentation about this system:
>>>>>>Tinytag Wireless Data Loggers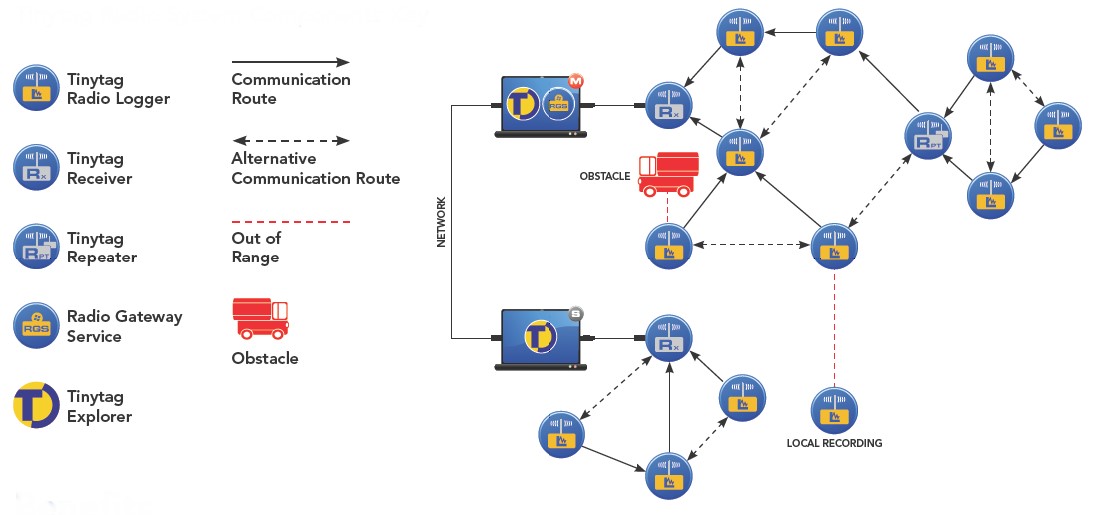 The system is very flexible, self-configuring to form a robust mesh network. The loggers communicate with each other and find the optimum path back to the receiver, re-routing data in the event of a temporary obstruction and also recording locally if communications problems occur. Loggers may be moved or added as requirements change. Alarm warnings can be sent via email, which in turn can be used to generate text messages, enabling corrective action to be initiated.

There are 2 housing types of radio loggers available:
Tinytag Ultra radio loggers for indoor use (IP20 protection)
Rugged Tinytag Plus radio loggers for mainly outdoor use or for use in rugged industrial environment.

Both types use the same technology and can also be mixed in one radio mesh network system.
---