NTC Probes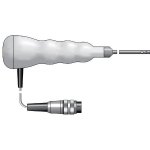 NTC Probes as Accessories for Suitable Thermometers
These are semiconductor sensors with a negative temperature coefficient, also called thermistors. 
The sensors conduct electricity at high temperatures better than at low temperatures and can therefore be used for temperature measurements.
The thermistors have no linear characteristic and therefore the measured values in the connected thermometer must be linearized by the electronics. 
The probes offered here are accessories with the plugs for the appropriate thermometers. 
Page 1 of 1
Items 1 - 11 of 11
---