RF Shielding Underpants TEU, long, made of Silver-Elastic, 50dB, shielded clothes
Description
RF Shielding Underpants TEU, long, made of Silver-Elastic, 50dB, shielded clothes
HF and LF shielding long underpants made of Silver-Elastic. To wear as thin underpants under one´s other clothing, or as pyjama top together with our hoodie TEO. Top-quality individual pieces produced by us, no mass production! Perfect at home, on holiday or business trips!
Please note:
Because these articles are made individually for our customers as well as for hygienic reasons, they are excluded from any return!
Characteristics Silver-Elastic
Silver-Elastic is a very elastic fabric which fits each body shape easily. Therefore it is not visible through outer clothing.
Silver-Elastic has a very high washability without attenuation loss.
Despite the metal surface, Silver-Elastic is soft and comfortable against the skin.
Silver-Elastic is electrically conductive on both sides which is why low-frequency fields will connect less and can be conducted away more easily. Many electrosensitive people give priority to fabrics that are groundable!
European sizes: S, M, L, XL, XXL

Attenuation: 50 dB at 1 GHz

Raw materials: 80 % spandex, 20 % silver

Surface conductivity: 0.5 ohm / inch (square resistance)

 

Shielding attenuation

The shielding attenuation is regularly tested in the manufacturer's own laboratory or by Professor Dipl.Ing. Pauli at the University of the German Federal Armed Forces in Munich due to the standards ASTM D4935-10 and/or IEEE-STD-299-2006.

The line in the diagram stands for the radial direction of polarisation (both directions, horizontal/vertical) and indicates the attenuation achievable in practice.

A test report is available upon request.

 

 

Care


 

Cleaning in a washing machine at 30°C. No handwashing!
For allergic persons: Every new fabric smells! Always wash before its first usage!
Sizes and measures:
| | | |
| --- | --- | --- |
| Size | Length (1) | Circumference (2) |
| S | 93cm | 50-80cm |
| M | 98cm | 56-86cm |
| L | 103cm | 60-94cm |
| XL | 108cm | 70-100cm |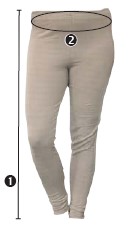 Important for the try-on: This hoodie has been pre-washed and will not shrink on the first washing!
Discoloration of silver
Fabrics containing silver threads will discolor over time, other suppliers keep quiet about this!
But stained places have no negative effects on the screening attenuation!
---